Hello Digital Camera-Ideas Enthousiast,
great to have you on this blog again today,
It isn't an actual Digital Camera-Idea,
However it is part created digitally, the drawings are being
digitized with a scanner and than digitally manipulated
things like scaling, rotating and adding color to it etc. etc.



Check out the Results!!!
How About This Funny
Bubbling Bunny Cartoon Clock
For Your Bathroom?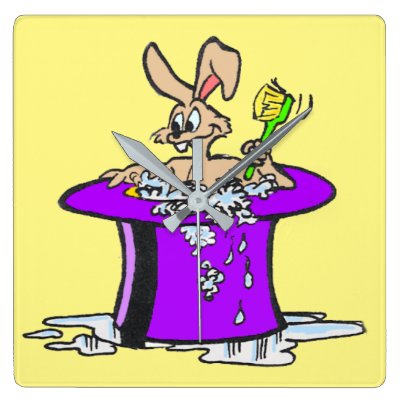 Bubbling Bunny Square Wall Clock Customizable
by
EdelhertDesignStudio
Recently we had this clock as
a
'Guest Post'
on:
Clockstahtzazzle.blogspot.com
So I thought: 'Let's also put it on our own BlogSpot'
as you can see here above.





Your Comments Are Welcome:


It would be great to see your
Comments about how you like the design
on Clockstahtzazzle.blogspot.com




In our Online EDS Store you can also discover
a great matching Shower Curtain
when you have a look at our

Shower Curtains
P.S.
there frequently are interesting
Special Offers
you can check out!
Follow Us
On Twitter:


EDS Twitter Page


So You Can Frequently Check Out This Blog
For - Crispy Fresh - New Blogposts
(You Can Also Just Browse, Looking
on Keywords etc. etc.)

Or check out the,
Comments & Replies
from other readers or the...,