Sitting Dog Cartoon
Recently I had a look at some things I have
stored in my garage storage space, and In
an old
Sketchbook
of mine I did discover
several dog drawings,
Dog Poses:
Years ago when I drew them I drew them very
quickly to study all kinds of
dog poses
,
and dog details.
Also our
Cartoons
are
Coloful Nature Inspired Designs
,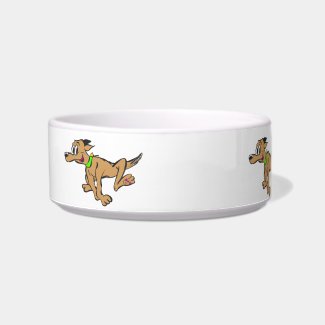 EDS Dog Cartoon
Running Dog Cartoon Customizable Pet Bowl
by
EdelhertDesignStudio
I
t is easy to keep clean!
Dishwasher and microwave approved
Printed with your favorite photos,
text, and designs
Look At A Customized Example
In our Twitter Post!
See an Example Customized Pet Bowl,
Meet the Dog Puppy Scott!
You can also see this
- TWEET -
on our EDS Newsfacts Blog
on our
DESIGN Facts Page
:

The Making of
the Dog Pet Bowl
Since the drawings where a little sloppy and
in black and white, now with the help of
the computer I did
breath new life into them
by improve those sloppy drawings, scale them
and
give them color
.
It's
pretty exciting
to see how
those old black & white drawings come to life,
because many of them I have never before
seen in color myself!
Here below you can see two other examples of
New designs I created:
I also did the same with an
Octopus Cartoon Character of mine
you can read more about it in a blog post
titled:



Sunny Wather,
Culinary BBQ's,
New Designs!
Talking About Color:
At EDS we also happen to have a special
Category:
Coloring Plate Postcards

It Goes without saying
that we also have

Lots Of Other Greeting-
& Postcards (Also with Color!)
Here below you can many other examples of
Cartoon Designs I created:
Many More Other Products

& Cartoon Designs