DISCOVER Our Great Limited Time Offers NOW!!!





Don't MISS Out On
This Great Opportunity!



Just Imagine Sitting in the Garden, being one of the first to
have your Cool Drink served from this Great Looking
A Cute Sunglasses Wearing Meerkat Product


You Definitely Want to Have...!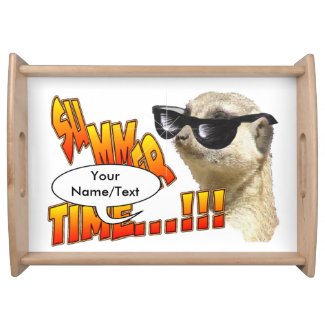 Summer Time Meerkat Customizable Serving Tray
by
EdelhertDesignStudio
Browse another
Serving Tray online at Zazzle
,
see more of
Get Curious About
Our Other Great Looking
Serving Tray Designs!!!
Something about the Designs:
Besides our Special Beach Life Designs as you could read about on our Travel Blog in a Blog post titled: 'Things to Take with You at the Beach' we also have a lot of Special SUMMER TIME Designs!
Many of the -
SUMMER TIME - Designs
are not only
Colorful Nature Inspired Designs
, the also
have special
Cartoon Style Elements
like for example
with Special Cartoon Style
Sunglasses
cartoon drawing
,
- Like the
Furry Animal
, the
Cute Meerkat Face
you see here above -
also frequently
combined
with special
Cartoon style lettering
(usually Big
Colorful Tekst
Lettering)
(As you can also see with our
Octopus Cartoon drawings)
Some even have a special cartoon style text balloon
where you can add your own text!
For Your SUMMER PARTY;
Paper Cups & Plates:
Summer Time Flowers Paper Cups Paper Cup
EdelhertDesignStudio
Zazzle
Limited Time Offers NOW!!!
Discover More SUMMER TIME Products:
For your 'Summer Party' you can also for example discover this Meerkat Animal Face on a special Summer Time Suitcase Design Summer Time T-shirts or Summer Time Shoes and Summer Time Flip Flops