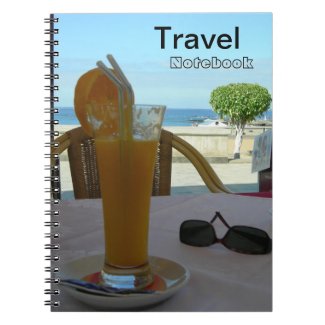 Travel Notebook ED Travel
I have seen that
you frequently write about your Travel Photography
and other
Interesting and
Inspiring Travel Related Topics
in your
TWEETS
, as I can see
on
Our TWITTER Page
It is also a
Topic
that I enjoy to write about.
It is something that helped to
Inspire
me to do
Travel Photography
myself,
and to create this Special
Travel Destination Notebook
here above.
This Notebook provides you an Excellent way to Show
YOUR own Personal Style!!!
Here you see some of the -
Symbols -
of a
Great Relaxing Travel Destination,
the
nice
Cool Drink
, the
Terrace Table
, the
Blue Sky
, a
Little Boat
,
and the
Sun Glasses.
You Don't Want to Go On Your Travels
Without a Great Looking Travel Notebook,
Like this Perfect One for taking notes, and Writing About
Your General Travel Adventures.
Orange Juice Travel Destination Notebook
by Edelhertdesigntravel


(BTW See that You Can Also Buy This Design As a PLANNER)
An
INSPIRING Note Book
like the one here above
with
Sunglasses
the 'Relax Holliday Vibe', the Sunny Blue Sky,
and the Orange Juice Drink at a terrace table,
can be practical to
jot down ideas
,
or write abou
t: your
Visits, Hicking Adventures, Art, Architecture,
Top Food Spots, Restaurant Visits at
the Best Restaurants,
for Foodies etc.....
in other words:
your SPECIAL
Travel Adventures!
BTW you can use the Social Share Buttons

below this post to share this post with others!